The Building Project of the Year 2006: The Jury's Award for the Synagogue in Hartmanice!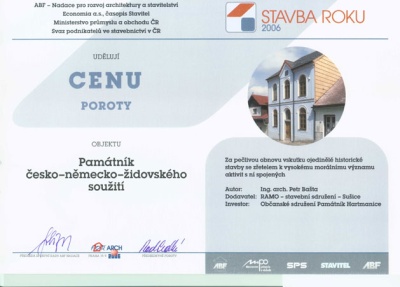 The Jury's Award in The Building Project of the Year 2006, a prestigious professional competition, went to the Memorial of Czech - German - Jewish Coexistence in The Mountain Synagogue in Hartmanice. The project was selected from 15 projects, short-listed from the total of 44 submitted building projects.
The restoration of the synagogue was carried out according to the design of architect Petr Bašta by RAMO, a civil engineering association, financed by the Memorial Hartmanice.
The Jury's decision was explained by its chairwoman, architect Anna Hostičková: "The project radiates the energy with which the neglected and derelict synagogue was restored and brought back to life. Nothing has been forgotten; thorough and detailed historical research, painstaking effort in the restoration of each and every detail, keen personal interest in cultural and religious values, and outstanding performance of everybody involved - from the sponsors to the last craftsman. Despite the synagogue itself being a reminder of rather dark chapters of our history, visiting it now fills one with utter joy."