Jews in Hartmanice
The old town of Hartmanice was closed to Jewish inhabitants for centuries. Only after 1848 and later 1867, when Jews were given full civil and political rights, did they gradually start arriving to the Hartmanice region.
In 1880, Jews represented more than 10% of the population in Hartmanice and actively took part in the development of the town. In 1881 the local Jewish Community in Hartmanice and Kundratice built the Hartmanice synagogue to serve about 200 Jewish inhabitants from the surrounding area. The synagogue was the centre of the local Jewish culture for more than fifty years.
The commercial success of Jewish inhabitants in Hartmanice at the beginning of the 20th century was substantial. Local, business was almost exclusively in Jewish hands: the Barth family dealt in grain; Josef Kraus was a livestock dealer (and a butcher); Eisenschimmel, Adler, and Fröhlich bought and sold furs and hides; local pub was run by Mr. Popper; among other traders were names such as Lang, Schwarzkopf, and Julius Adler. The Blochs had a glass and tinfoil factory and gave jobs to hundreds of people from Hartmanice and it surrounding. Local forests were well-known for an abundance of mushrooms and wild fruit and so collected by the locals for their own consumption, as well as for sale - the fruit was purchased by Jewish traders Fröhlich and Bloch.
After the end of the 1920s, many Jews from Hartmanice gradually moved to bigger towns and cities, more connected to the outside world and thus offering more business opportunities. The Jews were also particular about the available higher education for their children. The outflow of Jews from Hartmanice later sped up as the rising anti-Semitic sentiment, fed from the neighboring Germany, soured the region. At the beginning of the 1930s, the religious life in the synagogue in Hartmanice almost ceased to exist and, in 1931, the local Jewish Community was concentrated in Sušice.
After the Nazi occupation in October 1938, the remaining local Jews fled to the interior of Czechoslovakia, but those who were not able to emigrate, later met with a terrible fate - they were arrested and their property was confiscated. The last Jewish inhabitant who was transported away by the Nazis was Hermann Meister from the neighboring village of Kundratice. Mr. Meister is remembered in Kundratice and local villages as a street peddler who kept practicing his trade even under the Nazi regime. It was rumored until recently, that he had been placed into a retirement home, but we since found his name on the list of the deceased in the Terezín (Theresienstadt) concentration camp.
A mere fourteen days before the end of war, Hartmanice witnessed the death march of some 500 Jewish women from Poland, Hungary, and Czechoslovakia. In an attempt to disperse prisoners from concentration camps, these malnourished, exhausted, and dying women were made to march from the town of Helmbrechts across the cold winter landscape of Šumava. After passing through Hartmanice, the women spent a night in nearby Horní Krušec, on the farm of Mr. E. Fuchs. Here, twelve women died and their bodies were buried the following day in the Jewish cemetery in Hartmanice. In the town of Volary, only several dozen women remained and they were saved by the US Army.
None of Hartmanice's original, Jewish inhabitants ever returned.
Numbers of Jews in Hartmanice
(from the documentation of the Jewish Museum in Prague collected by Jiří Fiedler)
1811: No Jews listed yet, probably not allowed to sattle down in Hartmanice yet. Arrival of first Jewish families probably after 1847
1880: 102 Jews (11,81 %), 1 Protestant, 863 citizens (5 Czech language)
1890: 119 Jews (12,80 %), 1 Evangelic, 929 citizens (7 Czech)
1900: 104 Jews (11,65 %), 1 Evangelic, 892 citizens (15 Czech)
1910: 65 Jews (8,16 %), 4 Evangelics, 796 citizens (8 Czech)
1921: 50 Jews (7,57 %), 2 Evangelics, 3 members of no church, 660 citizens (73 Czechoslovak nationality, 6 Jewish nationality)
1930: 21 Jews (3,01 %), 696 citizens (5 Jewish nationality)
Superiors of Hartmanice's Jewish Community
1893-94: M. Pollak
1900-15: Simon Bloch senior
1916-18: Sigmund Barth
1919: dr. Benno Glaser
1920-21: Sigmund Barth
Rabbis of Hartmanice's Jewish Community
1894-96: L. Heim
1897-01: Moritz Bussgang
(according to Gold's collection "an expert in languages and literature of Middle East,
a scientist, whose rise to excellence was stopped by unfavourable destiny")
1902-08: Ignaz (Hynek) Duschak
(1895-1901 rabbi in Kašperské Hory, during the Second World War deported to Terezín,
died in Treblinka in 1942, together with his wife)
1910-22: Ezechiel Nussbaum
20.–30. léta: rabín Sand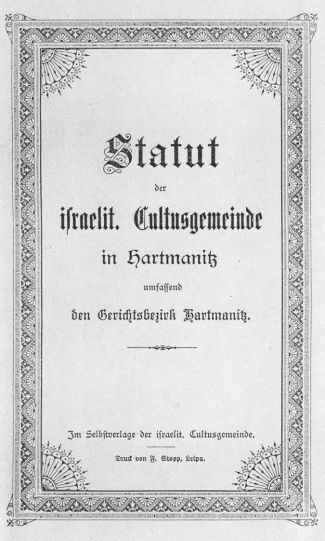 Stamp and Statutes of Hartmanice Jewish Community.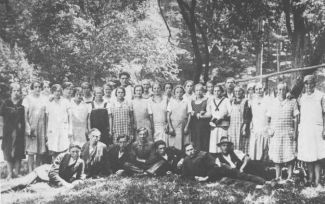 The workers of the Bloch tinfoil factory in Chlum.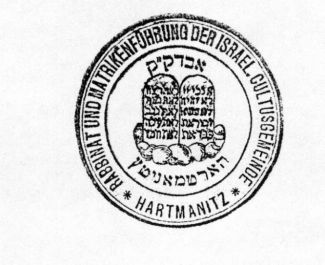 Stamp and Statutes of Hartmanice Jewish Community.